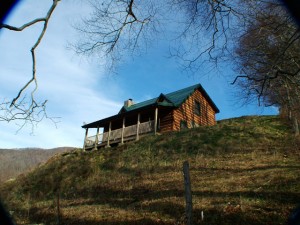 Carolina Dreambuild, Inc. specializes in the design and construction of log homes in the northwestern mountains of North Carolina. We are located and operate out of Boone, NC. We are a full service company capable of offering services from design, construction management and coordination, to anything in between cutting the first tree on the site to installing the last piece of trim when the project is complete. While passion for our trade is our motivation, complete customer satisfaction is our number one goal. After all, we are building dreams.
Carolina Dreambuild's president and founder, Brad N. Overcash, is a North Carolina native, and a graduate of East Carolina University with a Bachelor of Science degree in Construction Management. He gained valuable experience as a project manager for Mountain Construction Enterprises of Boone, NC, and acted as vice president for Eagle Ridge Builders of Banner Elk, NC. Combining education, experience and passion for mountain ambience, this is a builder who will deliver your dreams through a quality built product…built right, the first time.
Carolina Dreambuild's specialty includes finding lots and locations with desirable amenities, such as views, creeks and waterfalls, and the design of log homes that blend with the natural landscaping of the specific site. The design never starts until the location is found. The logs we prefer to use are 6×12 eastern white pine. These logs come in lengths up to 16ft, and window and door openings are cut on-site. The benefit is no limit to floor plan layout, such as with "kit" homes. We practice standard construction techniques to accommodate log shrinkage and settling. We always try to incorporate natural resources found at the home site, such as rocks for landscaping, fireplaces and interior veneer work; and trees that have to be cleared for uses such as handrails, mantles and countertops. Other than offering our log homes, we also build conventional frame homes and structures, as well as assembling "kit" homes. "Kits" we have constructed include:
3388SF 6×12 eastern white pine "square log" Jim Barna log home
2675SF 6×8 western cedar "d log" Hearthstone log home
3576SF environmental greenhouse design Hearthstone "timber trace" home
2840SF 6×6 southern yellow pine "square log" passive solar Enertia log home
In addition to building homes, Carolina Dreambuild, Inc. offers additional services such as home renovations, small grading projects, and your smaller exterior projects (gazebos, arbors, garden bridges, landscape stairs, wishing wells, etc.). If you can dream it, we can build it.