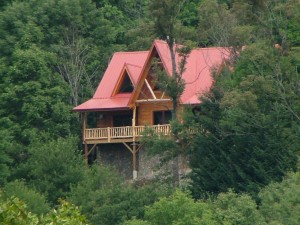 We get asked this question everyday. How much does it cost to build a log home? There is no right answer. Our Boone NC home builders break down the factors related and discuss what effects the bottom line.
The cost of building a house can vary greatly. Building a custom log home can cost a great deal, or save you money depending on the options and customization that you make. The cost of building a log home really depends on a host of factors, all of which can be customized.
These factors include the types of logs and materials used to build the home, square footage, kitchen and bathroom amenities, roofing materials, extras and add on features that you customize. We want to build a log home that is the right size for you and your home site. We excel at staying within a budget and delivering the type of home that you want.
An important factor that is often times overlooked in the initial design process is how the home site that you want to build on can effect the building process and the cost of the build. Obviously, it is easier for builders to get their equipment and other materials needed to build your home, or put together your NC log home kit on a flat lot. Sloping and steep lots are harder to build on and can drive up the cost of your build. Everyone has their own wants and likes. We build everywhere; our skilled home builders can build on steep slopes and accomplish the same job as building on a flat lot.
We will work with you to keep the budget on track, but there will need to be adequate time for the designs and plans to all work out. Some things to think about when considering costs and thinking about building are that it is more cost efficient to build a larger home because it costs less per sq ft than a smaller home. In a smaller home you still need a foundation dug, plumber electrician and much more. It also costs less for a two story home because the foundation and roof cover two stories rather and one story of living space. And lastly the interior finishes can range a lot in cost depending on what you want for your home. This makes a big difference in your budget because if you are wanting top of the line everything it will definitely reflect in the cost rather than just getting finishes that look nice, but are basic. Whatever you want Carolina Dreambuild, Inc. can do it and make the house of you dreams but make sure to know your budget because it can get out of hand.